Here are our top five simple, relatively inexpensive ideas to help you and your yard, and protect our special Northwest environment: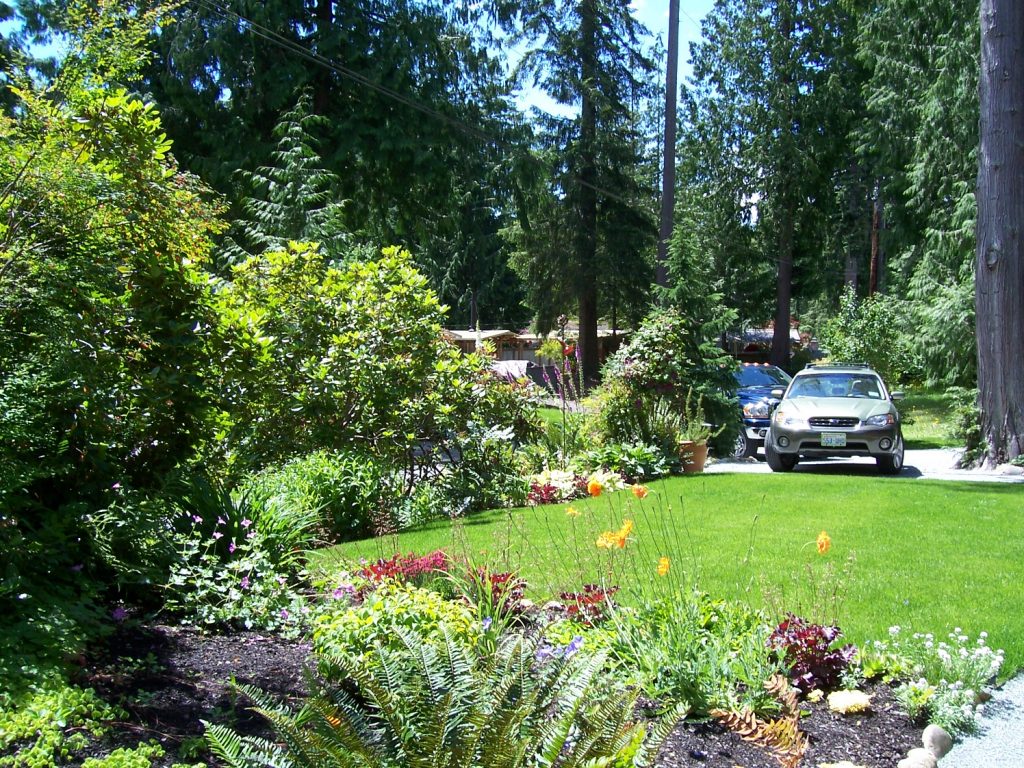 1. USE SPLASH BLOCKS
Redirect your downspout to a splash block so the water runs downslope and away from your foundation. Make sure the block empties onto your lawn or into a planting bed, where rain water can best be absorbed and used. Don't let water pool next to your foundation.
2. COLLECT RAIN WATER
Save rain water for the summer when we need it most! Rain barrels fill up quickly, so consider installing two or three, and be sure to direct the overflow away from your foundation. Better yet, get a cistern or tank – they come in all shapes and sizes.
3. INSTALL A RAIN GARDEN
A rain garden is a multi-purpose landscape feature. In addition to reducing lawn, rain gardens increase native habitat (supporting bees, butterflies, birds), and filter stormwater before it impacts the salmon and orca downstream.
Why consider stormwater solutions?
This is an easy question! You'll get healthier, more beautiful plants and an easier landscape to maintain in the drizzly, wet climate of the PNW. Your wallet will thank you for those extra savings on summertime watering. Plus, you'll help reduce potentially polluted runoff into our local waterways, keeping our animal (and human) friends healthier.
4. DEPAVE
Do you have extra parking, or areas of unused concrete or asphalt that you would like to turn into a garden? Depaving may be your answer!
5. AMEND YOUR SOIL
For better grass and less summer watering, add a layer of compost to your lawn (1/4 inch) and planted areas (1 – 2 inches). This will help your soil absorb and hold rainfall, leading to a healthier lawn and plantings, and reduce your water bill and need for fertilizers. Do this annually in the late spring/early summer or as needed.
READY TO GET STARTED?
We are all working together towards Better Ground – in our homes, schools, farms, and public spaces. We can grow gardens, educate our youth, and change the world – one property at a time.
It starts with you and your local conservation district.
Would you like to make some of these changes but need assistance? Conservation Districts work cooperatively with thousands of landowners a year to provide free services on private property.