We provide free expert services tailored for your needs. There is a conservation district in each county of Puget Sound to assist you in your yard, on your land, or with your community group. Our trusted staff include professional engineers, urban/rural planners, educators, conservation crews, and more.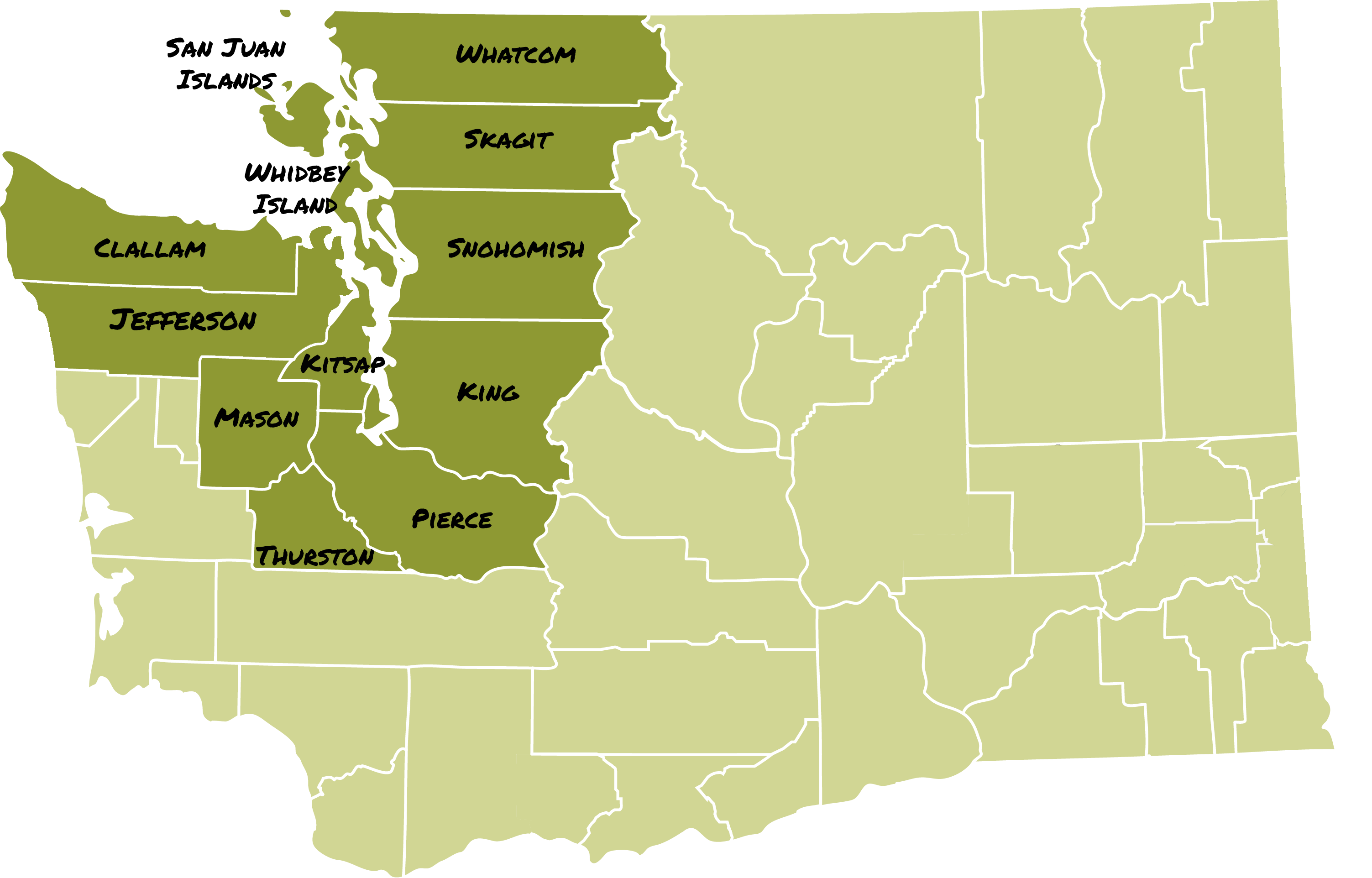 Clallam CD
Mason CD
Thurston CD
Skagit CD
Project Description: The project will restore a three-acre one-hundred and twenty foot wide native tree and shrub buffer on a small Pocket Estuary located on March Point.
Project Location: March Point Estuary
Project Time: 10 am to 1 pm
Contact Person: Bill Blake, bill@skagitcd.org, 360-428-4313
Whatcom CD
Snohomish CD
King CD
Project Description: Join KCD, Green Seattle Partnership and the City of Seattle to enhance Longfellow Creek and support healthy salmon populations.
Project Site: West Seattle, Seattle, WA
Project Time: 10 am -2 p.m.
Contact Person: Nikki Wolf, Nikki.wolf@kingcd.org, 425-282-1909
Project Description: KCD is partnering with the City of Bothell to enhance Parr Creek. Help us plant trees to improve the streamside habitat salmon need to thrive.
Project Site: Bothell Business Park, Bothell, WA
Project Time: 10 am - 2 p.m.
Contact Person: Matt Maria, matt.maria@kingcd.org, 425-282-1934
San Juan Islands CD
Whidbey Island CD
Project Description: Greenbank Farm rain garden restoration project. Master Gardeners will be on hand to lead a rain garden restoration and replanting work party. Partners: WSU Ext, WSU Master Gardeners, Port of Coupeville.
Project Location: Greenbank Farm, 765 Wonn Rd, Greenbank
Project Time: 1 - 4 pm
Contact Person: Shannon Bly, shannon@whidbeycd.org, 360-678-4708
Pierce CD
Project Description: Join us at the DeMolay Sandspit Nature Preserve for a marine shoreline restoration planting, to help reduce erosion and create better habitat for the entire food chain.
Project Site: Demolay Sandspit Nature Preserve, Fox Island, WA
Project Time: 1-4 p.m.
Contact Person: Camila Matamala-Ost, CamilaM@piercecd.org, 253-845-9770 ext.126

Kitsap CD
Project Description: Invasive weed removal and native planting along a Dogfish creek in the heart of Poulsbo, WA. Join us as we restore critical habitat for salmon and orca.
Project Location: Fish Park, 288 NW Lindvig Way, Poulsbo, WA 98370
Project Time: 9:30 am - 2 pm
Contact Person: Jesse Adams, j-adams@kitsapcd.org, 360-204-5529 ext 123
Jefferson County CD
Click on your county to learn more about your local district and find their contact information.