Learn more about our work and how you can support it.
Conservation districts have served Washington state for more than 75 years. This rich history bloomed from the dedicated staff, partners, and leaders working with conservation districts throughout the decades. 
We need to continue working together in order to ensure the continued success of conservation efforts in the region. If you have any questions about your specific county or region, please contact your District. We've listed or linked to several resources that may be helpful to you.
Need a better understanding of what we do? Learn about our services and programs.
Stormwater Services 8x11"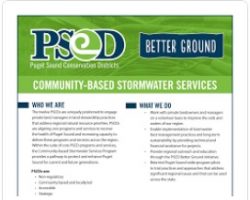 Stormwater Services 11x17"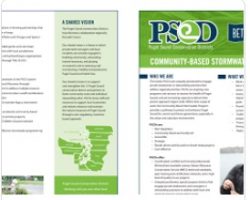 Flyer: PSCD Collaboration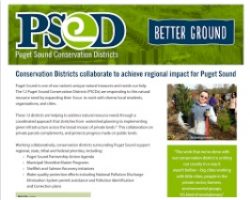 Small Acreage Farm Services 8x11"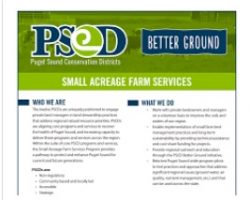 Small Acreage Farm Services 11x17"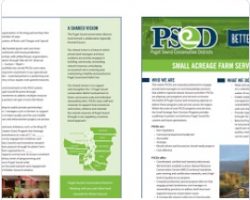 Working in conservation is a great opportunity to become more familiar with the land. 
There are no positions currently open for the collaborative PSCD. Please check your District's website to find any local job listings available.
Area Forester and Forest Stewardship Program Coordinator
Join the Puget Sound Conservation Districts and make a difference. Seven Puget Sound conservation districts (PSCDs) are collaborating to build and deliver a new Regional Forest Stewardship Program (Program) that seeks to promote and conserve resilient forests for multiple benefits through forest stewardship services. Forest stewardship services will be delivered by a corps of three Area Foresters working at three separate duty locations each serving an area comprised of multiple conservation districts. The goal of the Program is to improve forest health and reduce the risk of conversion by empowering communities and forest landowners to become knowledgeable and successful stewards of forest resources. Stewardship priorities include forest and watershed health and resilience, water quality and riparian and fish and wildlife habitat, contiguous areas under active management and in proximity to surface waters and publicly held open spaces and conservation sites, and profitable working forest lands.
This is a 2-year program with potential for extension depending on funding. Individuals occupying the Area Forester positions will help build and make the case to secure long-term program funding.
This position announcement is open until positions are filled. Priority will be given to applicants submitting materials by October 4, 2020, 11:59 PM Pacific.
Please click on the buttons below to view and download the additional information.
Check out what we've accomplished since 2016.