Puget Sound Conservation Districts
Regional Forestry
Pilot Program
We're called the Evergreen State for a reason— more than half of Washington is forested. Small forest landowners can play a vital role as stewards of this critical resource and they now have access to education and technical assistance from professional foresters, thanks to the Regional Forestry Pilot Program.
Developed by Puget Sound Conservation Districts (PSCD) and the Puget Sound National Estuary Program, the pilot program uses a cluster model that allows nine conservation districts to share foresters that they may have otherwise been unable to afford to hire themselves.
The program had three milestones to reach by November 2022, but those were already surpassed by the end of 2021.
Over 10,000 acres impacted by the program
Over 1,500 acres prepared for Open Space taxation enrollment
Over 600 landowners received technical assistance
Real Stories, Real People
Read program testimonials from forest landowners across the Puget Sound!
Our Prioritization Process
The first step in our process was engaging relevant community stakeholders to help identify critical resource and social concerns that could affect priority sub-geography regions. The Regional Forestry team asked experts and partners (such as Washington State University Extension, local tribes, and the Department of Natural Resources) about what they thought was the greatest need within the Puget Sound forestry sector. Our partners highlighted the following as the top resource concerns:
Development of forest land to non-forest conditions
Noxious or invasive weeds
Forests with only one major species
Young forests with too many trees
Fish passage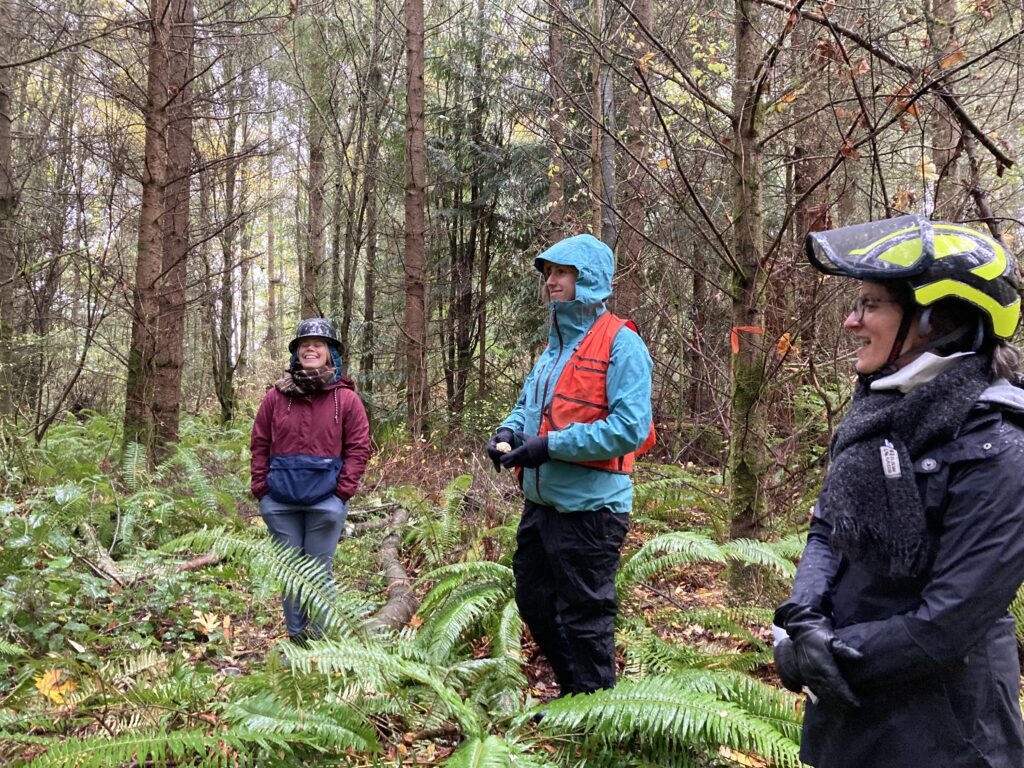 While developing the program, the regional foresters also completed a prioritization process to identify at-risk forest land and target outreach to these areas.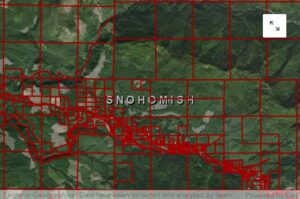 Parcel Tax Status & Size
This can indicate whether a parcel is susceptible to conversion. Landowners currently enrolled in a program that provides a property tax reduction for conserving forest land may have previously received forest stewardship services, whereas those who aren't may be at a higher risk of conversion.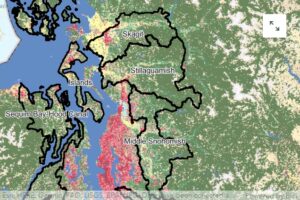 Forest Cover
Forest cover layers were employed to ensure that selected parcels contain trees and are therefore eligible for forest stewardship services. Various sources for forest cover were used to determine forested parcels, such as the National Land Cover Database data and local LiDAR-derived canopy cover.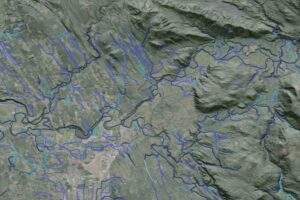 Proximity to Resource Concerns
This was analyzed to evaluate the resulting impact if parcels were converted to non-forest uses. For example, if a 20-acre parcel along a fish-bearing stream was converted to non-forest uses, this may impact our ecological goal of improving fish and wildlife habitat.
As a result of this work,
19,609 parcels
that would have the most impact on our top ecological goals were identified.
Regional Outreach Campaign
District foresters and outreach specialists worked together to develop an engagement strategy that targeted small forest landowners across the Puget Sound.  
This content was added to the Washington State Conservation Commission's marketing toolkit so that districts across the state could incorporate it into their programs and services. If you would like to access these outreach materials, please contact Snohomish Conservation District Lead Designer Emma Kilgore at ekilgore@snohomishcd.org.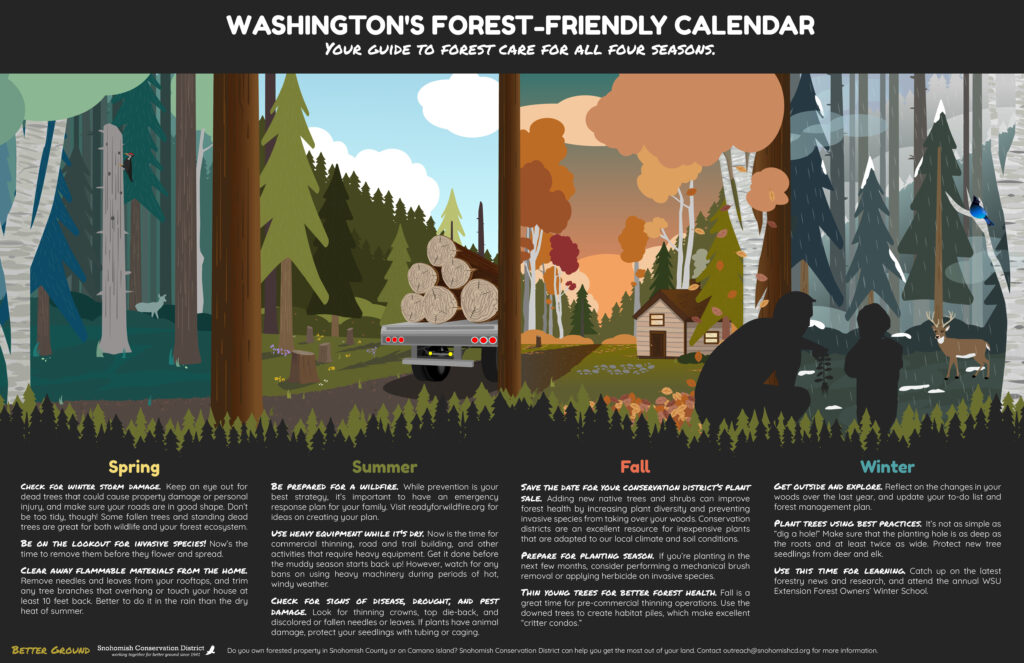 Help Guides for Forest Landowners
This project has been funded wholly or in part by the United States Environmental Protection Agency under assistance agreement PC-01J22301 through the Washington Department of Fish and Wildlife. The contents of this document do not necessarily reflect the views and policies of the Environmental Protection Agency or the Washington Department of Fish and Wildlife, nor does mention of trade names or commercial products constitute endorsement or recommendation for use.